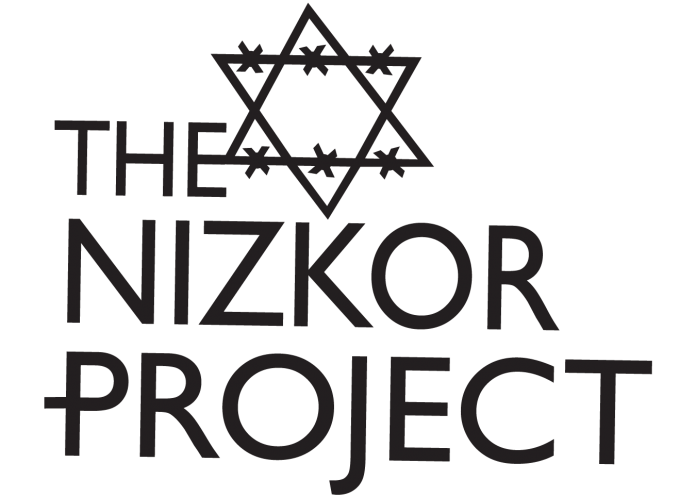 An autobiographical record of Emil Lachout emerges from the "documents" he presented to the Arbeiter-Samariter-Bund Österreichs (ASBO)[35] and the stories Lachout told in the video interview produced by the neo-Nazi Samisdat Verlag. It is a biography riddled with contradictions and inconsistancies. This can be "documented" by the following examples.
Lachout was born on October 20, 1928. Yet, in the video, he told some strange stories about his war experiences and his experiences during the immediate post war years. For instance, his description of how he came to enter the "Military Police Service":
"How I came to that is a somewhat long story, which I'll have to shorten. During the war I carried out special tasks for the German Wehrmacht. These special duties were well known to the Russians. And, while carrying out these missions, I learned there had been a secret school for spies in the Mauthausen concentration camp, in which there were Jews. As incredible as that may seem, but it's been well documented that there were over 1000 Jews who had been trained as spies for the Germans.
These spies were never caught by the Allies, because they could not imagine that a Jew would spy for the Germans. And, therefore I have, for some, not all but some of these people – they were picked up as injured, as sick on stretchers from the Mauthausen concentration camp to the military airfield at Schwechat, to be dropped by airplane behind enemy lines. I served on these transports as a medic. Of course we soon became aware, that these people were not sick. On the contrary, they were pumperlgesund,[36] as one says in Austria, men who had gone to special duty."[37]
Furthermore:
"I was in a special unit during the war, and I want to emphasize that it was not the SS. I had to capture paratroopers, and they came to a POW camp in Gross-wetzdorf. In this POW camp everything was quite normal. Everyone had to sleep on straw, but we had to sleep on straw too. And as far as sleeping on straw is concerned, I'd like to say, the concentration camp beds were the same beds as we had in the army training camp, also in the barracks. And wen the war came to an end, all these prisoners were released.[38]
…And then after I had fled from Russian imprisonment for the umpteenth time, I don't know anymore how many times I fled, but when I was already home, a Russian commission came to me. I was very ill. I had typhoid fever, and a Russian Commission – Officers' Commission – gave me an ultimatum. I had two choices: as seriously ill, as deathly ill, to be sent to Siberia, or to work with the Military Police Service. I picked the second choice…
Our job was to go along with the Military Police, with the Russian patrols, when civilians were arrested to make sure they were neither tortured nor in the case of women, raped…. and that was our job. That was the Military Police Service. There were commissions that investigated war crimes. We were with them. And our job with the Military Police Service was to ask prisoners, when we were alone with them, if they had been tortured."[39]
Lachout's video testimony contradicts the statement he made to the ASBO about his military service. New versions about his war experiences appear there:
"I was called up to serve in the emergency service as an airforce medic's helper with the Wehrmacht, when I was fourteen. The official drafting, I mean registration, followed later. … I requested a confirmation from the War Archive because the kind of malicious discussion (within the ASBO, author) – above and beyond libel – angered me. There it can be seen that I already had an NCO rank as Truppfuehrer on September 16, 1944.
On December 2, 1944 I was promoted to San-Gruppenfuehrer. Since in peace-time in the Wehrmacht one could become an NCO with two years of service and an officer with two and a half years, as a youngster in wartime … After I had been with the engineer corps (catastrophy aid like today's air-raid protection troops), I received the usual Feldmeister rank with this troop."[40]
In addition to the stories in the various documents Lachout gave the ASBO, there are additional stories about other functions and activities from the period 1944-1945 that he supposedly carried out: for example, acting instructor with the German Life-Saving Society on September 18, 1944,[41] sporting team manager on October 16, 1944,[42] appointment to medic mate in the navy on February 4, 1945,[43]] Feldmeister in the Reichsarbeitsdienst on March 27, 1945,[44] etc.
Another "document", supposedly from the Professoriate of the First Accident Surgery (University Clinics, Vienna, trans.) – whose forgery is dealt with later on – purports that Lachout was appointed Sanitätswachtmeister (Medic Sergeant) on May 1, 1945 by the Austrian Chancellory for Military Affairs.[45] Yet, in light of what he said on the video this was at a time when he was still a member of a special unit of the German Wehrmacht, trained to capture paratroopers.
One must also note that although the Under-Secretariat for Military Affairs was placed under Karl Renner's Chancellory command during the 1945 provisional government, there never was a "Chancellory for Military Affairs". [Continued]